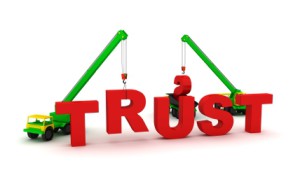 I just read a great piece on social media marketing for small and medium size business owners by Dave Thomas entitled 5 Truths the Boss Needs to Know About Social Media Marketing. In summary, his five points were:
Truth #1. Social Media is Here to Stay
Truth #2. We Have a Game Plan
Truth #3. Social Media Can be Measured
Truth #4. Time is of the Essence
Truth #5. Numbers Don't Lie
I, of course, felt there was a 6th truth and commented on his blog – here it goes:
Truth #6. Trustworthiness is the Key
One thing I might add to this is a common theme amongst small and medium business execs that social media opens a company to a public "airing" of their dirty laundry. I have met countless business leaders who feel social media creates a public forum for unhappy customers to complain.
My response to them is simple:
1. The conversation about customer dissatisfaction is going to go on with your input or without it. As the old saying goes, "a dissatisfied customer is likely to tell at least seven others about their experience…" You know the rest of the story.
2. The idea is for you to embrace the dissatisfied customer, engage their concern publicly, address it privately, resolve it to a mutual satisfaction and then ask the now satisfied customer for a public testimonial via social media.
In this new world of social media, as it relates to commerce, it's not so much about extending the reach of the brand as it is about building the trustworthiness of the brand. This is as important to small and medium size businesses as it is to the national and global brands.